Overview
What is KIPOnet?
KIPOnet is an integrated information system established to digitalize all the administrative processes from application filing to examination, registration, trial and gazette publication of the Korean Intellectual Property Office (KIPO) which used to be carried out manually.
KIPOnet provides customized online services that are accessible to individual applicants and the general public while also providing KIPO staff with systems uch as examination, administrative trial, registeration of IP
KIPOnet System Structure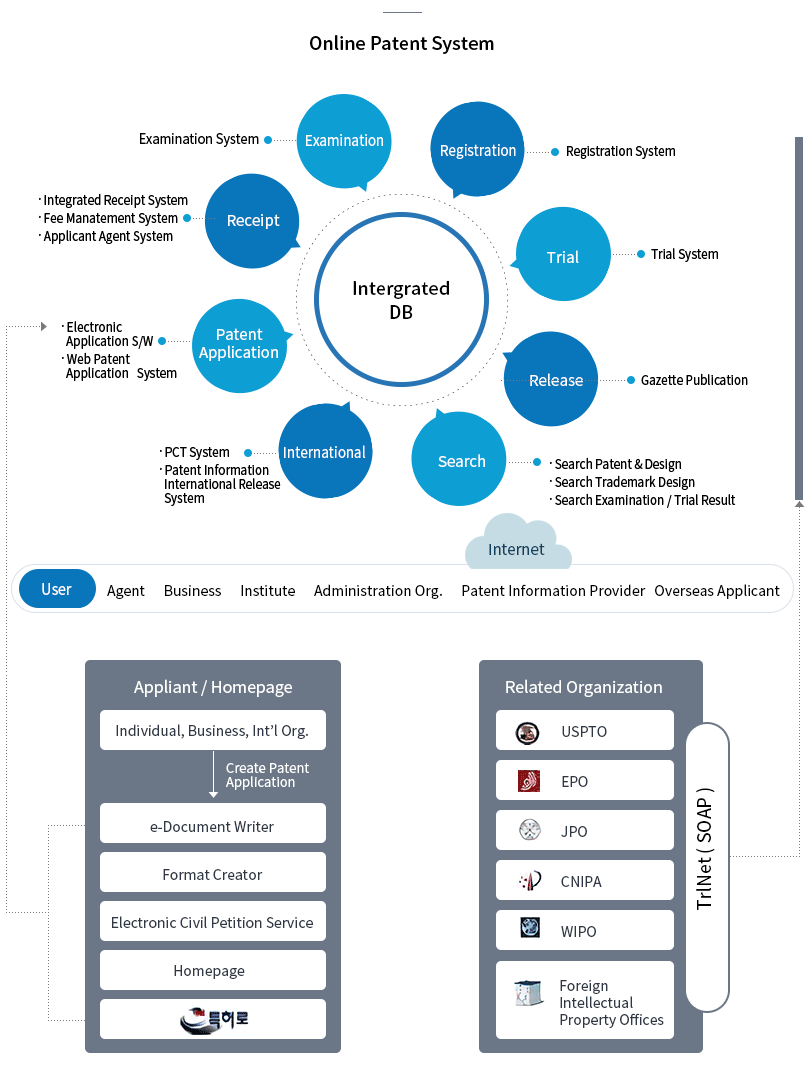 System Development History
Phase 1 (1992-1998) Computerization of Industrial Property Rights Administration
Development of the foundation for patent administration informatization

First 7-year Patent Administration Computerization Plan (1992~1998) was established and implemented.
The basis for an electronic filing system, including the revision of the Patent Act and other related laws (September 1998), was founded.
Phase 2 (1999-2002) Launching of KIPOnet
Completion of the e-government project in the area of patent administration

The entire process of patent administration was digitized through the launch of the KIPOnet (Jan. 1999).
Second 3-year Patent Administration Informatization Plan (1999-2001) was established and implemented.
Phase 3 (2003-2005) Development & Operation of KIPOnet II
Development of the KIPOnet II system, enabling year-round service

An system allowing 24/7 electronic filing services and remote examination was actualized.
XML (extensible markup language), a worldwide standard for patent documents, was applied and the online PCT (Patent Cooperation Treaty) system was established.
Phase 4 (2006-2009) Improvement to the Ubiquitous KIPOnet
Realization and improvement of a ubiquitous KIPOnet

An electronic civil service environment in which patent information can be accessed and used in real time without the restraints of time and place was completed.
A global patent document preparation editor (G-Editor) based on the Common Application Format, which is used as an international standard, was developed and distributed.
Phase 5 (2010-2012) KIPOnet III Development
Development of the KIPOnet III system to provide a smart application and examination environment

An intelligent search function to find technical information needed for examination was improved.
A virtual paper environment that featured an electronic memo technology in the patent examination process was established.
Phase 6 (2019-2021) Development of Intelligent KIPOnet
Incorporation of artificial intelligent tools into KIPOnet

AI technology was introduced into trademark image search, design image search, similar patent search, patent classification and customer consultation.
Phase 7 (2023-2025) Advancement of the AI system of KIPOnet
Research and proof of concept(PoC) of a hyper-scale AI patent model

A hyper-scale AI patent model with 1.1 Billion Sentences is planned to be designed and verified.
AI technology will be applied to the patent trial system to automate several of the manual tasks for patent trial.
Major Features
24/7/365 Non-stop Internet-based e-filing system

Electronic application filing, electronic application S/W, and paper filing documents are available through KIPO's e-filing portal
("Teukheo-ro").
An environment is provided where users can file an application at any time, regardless of system failure or disaster.

Automation of the entire process of intellectual property (IP) administration

The entire administration processes of formality/substantive examination, trial, and Gazette Publication is computerized.
A paperless office environment is realized via digitalization of all kinds of documents including application forms for document management.

Maintenance and enhancement of KIPO's integrated system

Legislative amendments on IP-laws is reflected and functions for system user conveniences is established in KIPOnet.
A new channel to cooperate with foreign IP offices is established and an electronic format for documentation is standardized.

System innovation with the latest technology

The latest IT technologies such as AI and big data to patent search, translation and CPC code classification, etc. is applied.
Several trial formality examination tasks that used to depend on manual labor is automated.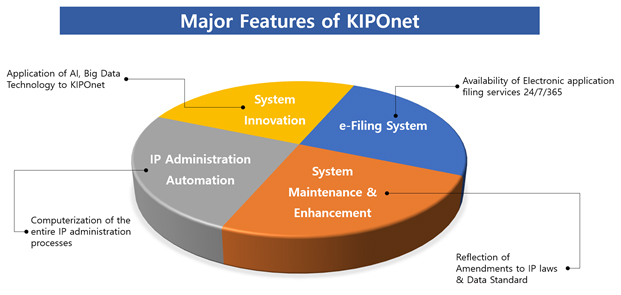 Last updated 06 July 2023
Industrial Property Information System Division
(Industrial Property Information Policy Division
Industrial Property Data Management Division)