What is the PCT-ROAD System?
The PCT-ROAD stands for PCT Receiving Office ADministration and it is a management software for PCT international applications. The PCT-ROAD system enables PCT Receiving Offices (ROs) to start electronic filing (e-filing) under the PCT. It can also be used to facilitate the processing of filings on paper and automate RO activities such as formality checks and a generation of several copies for PCT international authorities. PCT-ROAD S/W is free of charge and available to any PCT Receiving Office.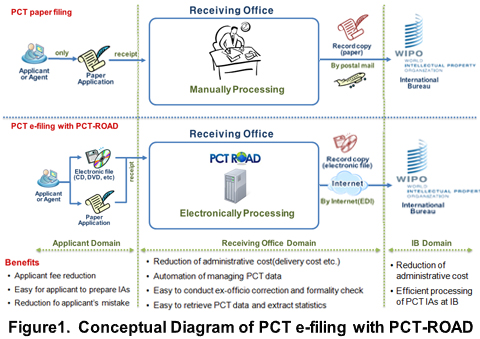 It is easy to set up the PCT-ROAD system. Basically, only one server PC is required to deploy the system and operate PCT e-filing. However, the system can be extended simply by adding client PCs to the server machine in accordance with PCT workload increases and human resources.
The PCT-ROAD is a web-based, stand-alone software. The PCT-ROAD S/W is installed only on the server machine. Client PCs operate with the PCT-ROAD server through a web-connection on a web browser (i.e. Internet Explorer) and, therefore, client PCs do not need to install the PCT-ROAD S/W.
The selection of the system configuration depends on the number of applications filed in a year and the number of staff available to handle the applications. A simple configuration is adequate for PCT ROs which receive few PCT applications and have limited PCT staff. In this case, only one PC is required to set up the PCT-ROAD system and operate it. If your Office receives many PCT applications and the PCT business section is composed of several staff members (e.g. a system administrator, Receiving Officers, formality examiners), it is convenient to consider the advanced configuration of the PCT-ROAD system with a server machine and with several client PCs.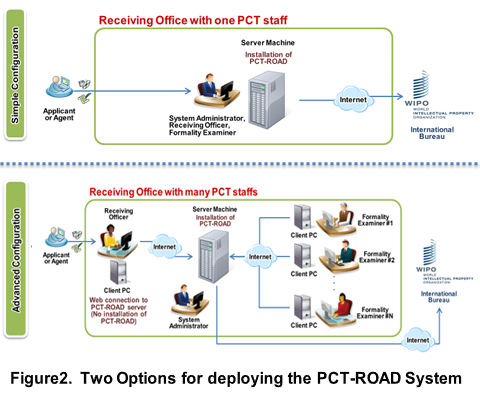 Major features of the PCT-ROAD system are as follows:
Receive and handle international applications in any format (electronic format or paper format);
Assign a receipt number and issue confirmation of receipt of an international application;
Fully electronic process for electronic filings received on physical media (CD-R or Floppy Diskette);
Enable international applications submitted on paper (including PCT-EASY format) to be processed electronically with functions such as data entry and upload of scanned IAs;
Check that international applications comply with the legal and technical requirements under the PCT for functions such as ex-officio corrections and formality checks;
Generate several copies for international authorities such as home copy for RO, record copy for IB (International Bureau) and search copy for ISA (International Search Authority);
Generate an electronic record copy named RO-WASP (Wrapped and Signed Package) and send the RO-WASP to the IB by internet (EDI); and
Manage international applications by making use of IA retrieval, backup and statistical functions.
What is the background of the PCT-ROAD?
PCT e-filing became available with the International Bureau as a Receiving Office (RO/IB) in February 2004, using the PCT-SAFE Client software for filing either over the Internet or via physical media such as CD-R or floppy diskette. Nevertheless, there are many PCT Contracting States that have not been able to take advantage of electronic filing due to limited resources and/or constraining IT infrastructure. As a result, applicants using these Receiving Offices could not enjoy the benefits of electronic filing such as the electronic filing fee reduction.
The Korean Intellectual Property Office (KIPO) developed its own automation system to receive international applications prepared with the PCT-SAFE Client software and has been successfully operating it for Korean applicants since January 2004. KIPO and WIPO agreed on the development of a PCT automation system for Receiving Offices to process international applications electronically.
KIPO and WIPO developed the first version of the PCT-ROAD system by tailoring and customizing the KIPO system in 2005 and made it available to all PCT Receiving Offices in 2005.
Last updated 08 June 2016
Intellectual Property Technical Cooperation Division