Applicants can prepare a PCT request form using the PCT-SAFE Client software and the technical description portion of the application can be drafted using the PCT-SAFE Editor (PSE).
Finally, an International Application (IA) can be submitted electronically to a Receiving Office after storing it on a CD-R or diskette (the type of acceptable physical media is determined by the Receiving Office) using the physical media filing option of the PCT-SAFE Client.
For a Receiving Office staff member, the PCT-ROAD system supports essential functions associated with the processing of international applications such as receiving the application, data entry, printing, ex-officio corrections, formality check, and creating the RO-WASP which is a mechanism for sending the electronic record copy to WIPO (IB).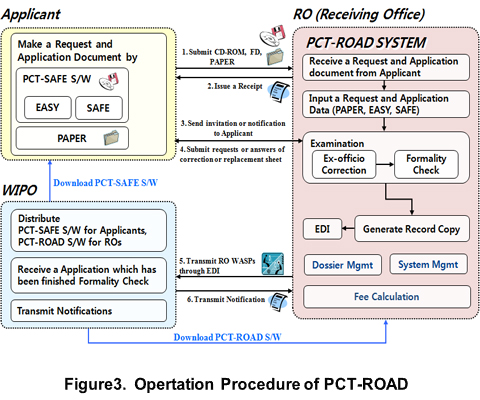 Detailed Function
Task
Details
IA Receiving
o Receive IA from applicant
o Input basic information of IA
o Check for virus of electronic file
o Check the integrity of electronic IA file
o Assign international application number and receiving number
o Save basic information and IA files on electronic media submitted by applicant
o Issue receipt for evidence of filing
Data Entry
o Input bibliographic data for paper IA
o Create the master DB having bibliographic data
o Upload bibliographic data from SAFE or EASY application automatically
o For the paper application, input all the required information into blank sheet to
save and manage its data. Automatically create an XML file.
Ex-officio Correction
o Show Request XML file
o Select items in Request to be ex-officio corrected
o Review corrected Request file in PDF format
o Multiple items in Request can be ex-officio corrected
o Review ex-officio corrected history
Formality Check
o Uses same validation rules as currently described in PCT law against IA data
o Items for formality check shall be skimmed over in this section
o Generate RO forms in PDF related to formality check
o Back to ex-officio correction
Create RO WASP
o Generate and export RO WASP, electronic record copy
o Sign with RO certificate to generate RO WASP
o Export RO WASP to the designated folder in client PC
o Compliant to the WIPO standard for RO WASP and its package
Last updated 26 May 2016
Intellectual Property Technical Cooperation Division