Description of AT Competition project
The implementation of the Appropriate Technology Competition project began in September 2011 and is still in progress.

This project either is currently being implemented or has been implemented10 times in 8 different countries including: Ethiopia, Malaysia, Ghana, Philippines, Zambia, Vietnam, Mongolia and the Dominican Republic. In 2016, the AT Competitions that were held in Thailand expanded its outreach compared to past competitions.
KIPO-WIPO Appropriate Technology Competition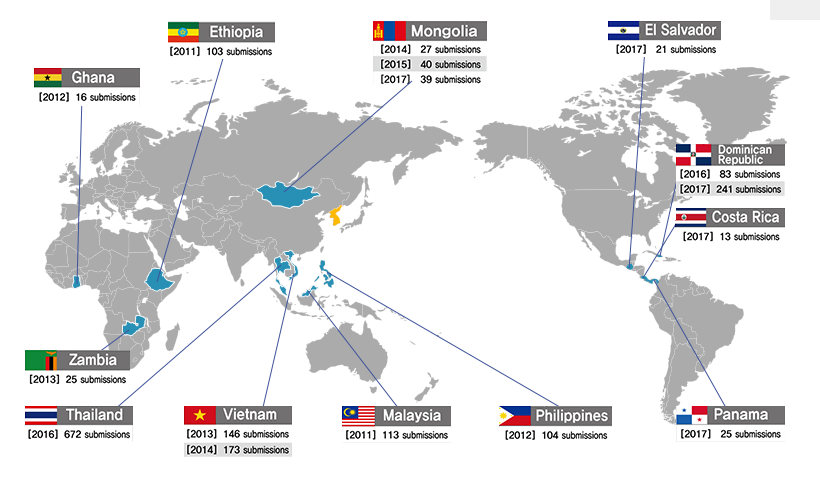 Figure 1 - Competition hosts (2011- )
Objectives
The AT competitions support students and inventors in developing countries by showing them how to utilize patent information in order to devise creative solutions to problems their local community face (Korean Intellectual Property Office, n.d.).
The specific objectives of this project were as follows:
to encourage the creation of innovative solutions for frequently occurring technical problems, especially solutions that utilize technologies fitting to local conditions;
to build a capacity for effective and enhanced utilization of IP information in developing necessary technology, in particular, appropriate technologies for the basic needs of the people;
to promote cooperation among concerned stakeholders, including IP Offices, NGOs and social enterprises, for the development and dissemination of appropriate technologies.
Trilateral cooperation structure
The AT Competition demonstrates a trilateral cooperation structure between WIPO, KIPO/KIPA , and the national IP offices of the Member States. As illustrated in Figure 2 - Trilateral cooperation and AT development assistance schemes, the trilateral cooperation offers an optimal structure to support the development of appropriate technology through three core phases: WIPO AT Competition, AT Development Project by KIPO/KIPA and collaboration with external organizations such as NGOs. The trilateral cooperation allows a natural flow of inventions to subsequent assistance programs so that the invention can develop both their technical specifications and optimal business plans.
Figure 2 - Trilateral cooperation and AT development assistance schemes
The appropriate technology development assistance schemes of trilateral cooperation begin with Funds-in Trust entrusted to WIPO by the Republic of Korea. The first phase of assistance, WIPO AT Competition, serves the most fundamental and crucial step in appropriate technology development assistance: understanding the local needs and environment. Many assistance projects on appropriate technology from the past were unsuccessful largely due to a failure in understanding local needs and the local environment. With this in consideration, the AT Competition provides an optimal route in understanding the local needs as the stakeholders themselves voice the problems they face in everyday life and propose potential solutions to the problems.
Submission
If you would like to benefit from this Project, please send your submission request to kipomla@korea.kr
Last updated 12 January 2018
Trade and Cooperation Division