Ylang-Ylang Oil Extractor Project
Country
Philippines(Anao)
Development Period
2013
Objectives
To develop, optimize, and mass produce an essential oil extractor for local residents.
To establish a processing center for the manufacture of secondary products, such as perfumes, aromatic soaps, shampoos, lotions, novelty items, etc.
To establish a state-of-the-art R&D laboratory for developing innovative processes in producing Ylang Ylang products and by-products.
Ylang-Ylang Oil
Ylang-Ylang oil is a prized aromatic oil widely considered the world's most relaxing essence thanks to its delicate fragrance and therapeutic properties (Araral, 2013). It is also the number one ingredient used by leading manufacturers in making perfumes, aromatic soaps, shampoos, lotions, mouthwash, and even novelty items like scented and mosquito-repellent candles. (Fresco, 2003)
Project
In 2013, KIPO and the Philippine Center for Postharvest Development and Mechanization (PHilMech) entered into a Memorandum of Understanding for developing an efficient village-type Ylang Ylang oil extractor, which then underwent evaluation trials in Anao, Tarlac, in order to optimize its performance.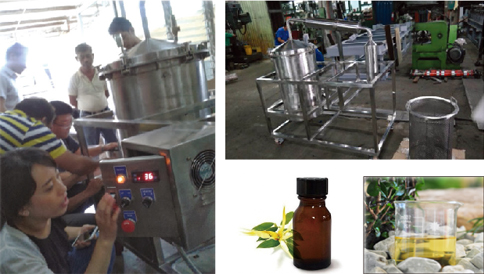 URARO Starching Machine Project
Country
Philippines(Marinduque)
Development Period
2021
Objectives
To develop efficient and custom-built URARO starching machines to boost economic growth
Beneficiaries
Bahi Agricultural and Fisheries Association

Calamansi Project
Country
Philippines(Mindoro)
Development Period
2022
Objectives
To develop an efficient mobile calamansi juice processing system to improve competitiveness of their products
Beneficiaries
Matulatula Agrarian Reform Community Cooperative, MARCCO

Last updated 25 May 2023
Trade and Cooperation Division