Eco-Friendly Dye Extracting and Dyeing Machine Project
Country
Mongolia
Development Period
2015
Objectives
To enhance the existing dyeing techniques through a collaborative R&D project with the Mongolian textile laboratory.
To develop an eco-friendly dye extracting and dyeing machine that will help increase the income of cooperative union members who make products from wool.
Compared to before, in which the extraction and dyeing processes were done manually and so time consuming and laborious, the efficiency and effectiveness of such processes have increased as the new technology is a one step machine that not only extracts, but dyes as well.
Current Situation
Eco-friendly dye extracting and dyeing machines were supplied to the laboratory and the wool cooperative union in Mongolia.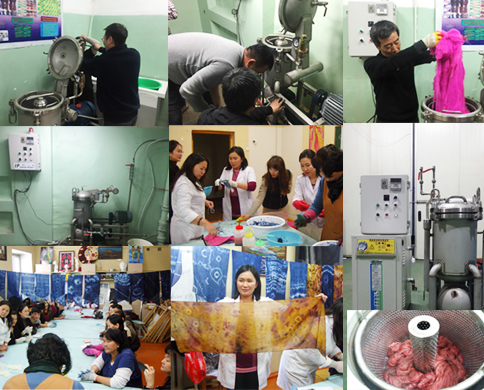 Last updated 22 September 2016
Multilateral Affairs division